Women/Trans/Gender Non-Binary Hours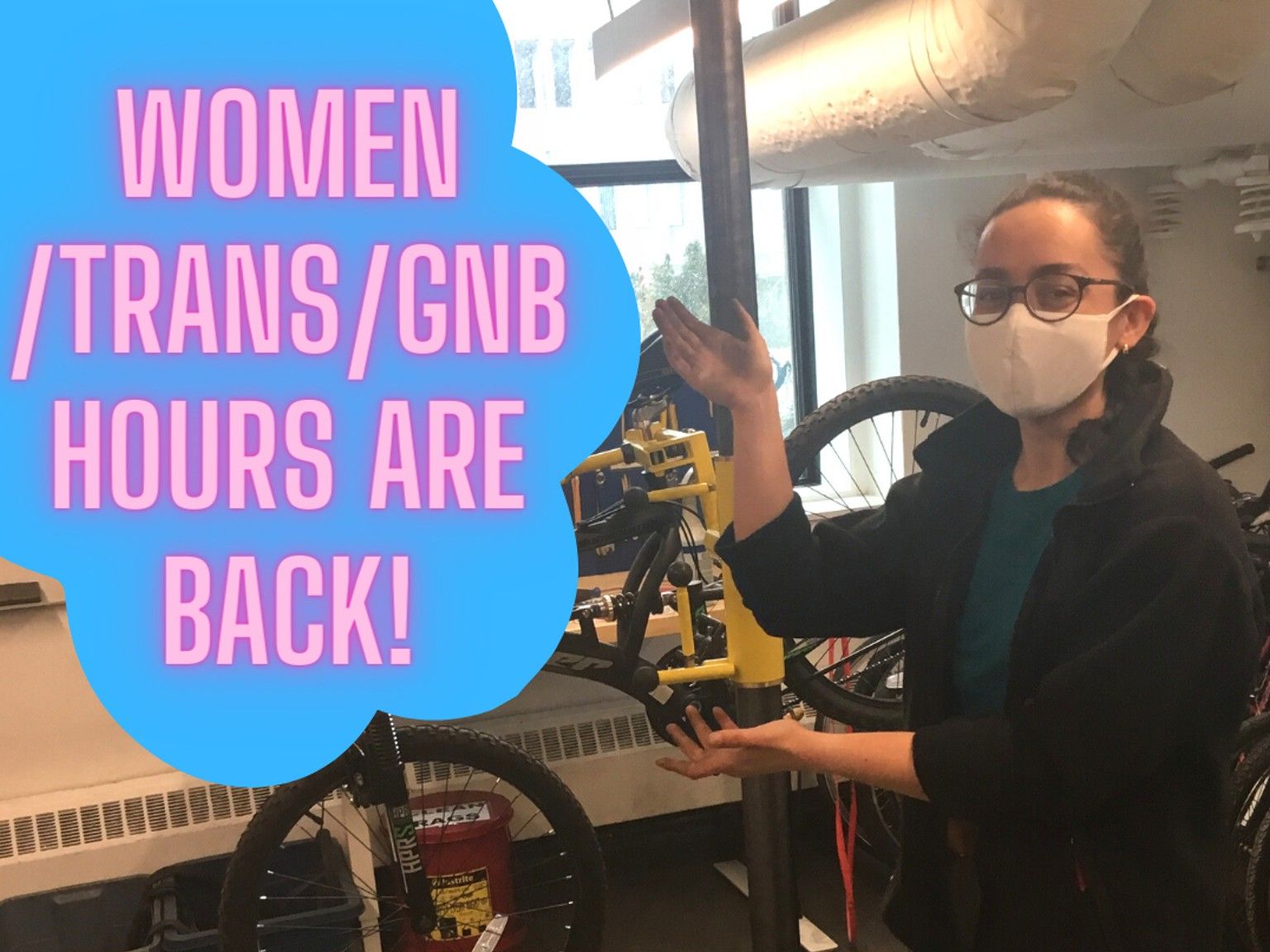 WTGNB do-it-yourself hours are every Monday 6:00-9:00, by appointment only.
Bikechain offers weekly Women/Trans/GNB hours! From 6:00pm-9:00pm every Monday, the repair shop will be open exclusively to folks who identify as female, transgender, femme, gender non-binary, genderqueer, trans-masculine, trans-feminine, or who feel that their socialization or treatment as a woman/trans person/gender non-binary has impeded their participation in bicycle mechanics.
While we aim to make Bikechain open and accessible to everyone during our regular hours, we recognize that mechanical spaces have traditionally been cis-male dominated, and are often unwelcoming to other folks. This is a special program which we hope will give everyone an equal opportunity to learn about mechanics by offering a safe and welcoming space for women, trans and gender non-binary folks to learn about tools and bikes!
We also need volunteers to help with running this programming! If you are interested in learning more about bike mechanics and working on your teaching skills, or already have mechanical skills that you'd like to share, please get in touch with us at bikechainuoft@gmail.com
If you have questions about this type of programming, check out this super-informative FAQ page from Edmonton Bikes!
Don't believe that we need the space? Start here.
Allies who do not identify as women, trans, or gender non-binary can support WTGNB hours by:
Respecting the space. If you are not woman-, trans- or gender non-binary-identified, please come to the shop during our other open hours!
Taking us seriously. We have created this space because we feel like we need it. It is hurtful to ask people who are trying to claim space whether they are joking!
Telling your female, trans, and gender non-binary friends about the program.
Being aware of the ways you interact with others at Bikechain. Creating a positive, anti-oppressive environment is everyone's job.
Educating yourself about issues affecting trans folks and women.
Explaining to other potential allies why it is important to support trans and women exclusive spaces. It is often helpful for dudes to hear it from other dudes!
(Thanks to Bike Pirates Sundays, from whom we stole this list).